The Perfect Golf Date Night Near Minneapolis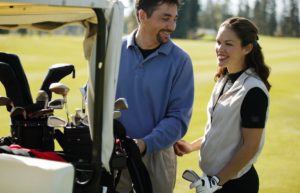 If you are a couple that plays golf — and it is crucial that you both play golf for this to work — then Minneapolis is a great place for date night golf. And we're not talking about mini golf, either. Minneapolis is often ranked high among the most livable cities in the country. When you consider the great golf courses in the area, it's a no-brainer.
Before we set out on our playfully romantic adventures, we probably need to remind ourselves, if we haven't been on one for a while, about what goes into a great date night. A quick Google search for some secrets to the perfect date night leads to this advice from the kreativeinlife.com site:
"The main secret is there is no secret. Your date night should be about whatever you and your partner enjoy. It should be about spending quality time together and enjoying one another."
Well, that seems simple enough.
Planning Your Golf Date
Did I already mention you should both be golfers? My wife is not a golfer, and one time playing a round together, her limited joy in the game was extinguished by my well-intended advice on her game. For golf enthusiasts, one advantage of golf's lengthy time drain — we suggest playing nine holes — is that you get plenty of time to enjoy each other's company.
The date night should also presumably include dinner. Luckily, there are several golf courses near Minneapolis that have great restaurants and nearby after-golf activities.
Places to Play
A good place to start might be Stonebrooke Golf Club in Shakopee, which is a short drive to Minneapolis. The date night can begin on the course, where on the 8th hole a ferry is waiting to shuttle your twosome across beautiful Lake O'Dowd after your tee shots. While it isn't a long, romantic ferry ride, it may serve like the lighting of an aromatic candle.
After the round, venture to Minneapolis for a beautiful view of the city skyline or stay and indulge at Stonebrooke's full-service restaurant, lounge and outdoor terrace. Enjoy the fire pit on the terrace overlooking the 10th and 18th fairways and illuminated waterfalls, or head inside to cozy up to the fireplace before an excellent dinner.
Rush Creek Golf Club in Maple Grove offers more great golf and exquisite dining in their Highlander Restaurant. Rush Creek also has a beautiful outdoor terrace that overlooks the gorgeous marshland just coming into its fall colors, accented by vibrant green fairways. Certainly, spending some romantic time on the terrace is weather permitting in Minnesota, but Wednesday nights throughout the summer include live music, another great date night starter.
A little closer to Minneapolis you can start your perfect golf date at Braemar Golf Club in Edina or Edinburgh U.S.A. in Brooklyn Park. Braemar has recently updated their clubhouse and renovated the par 3 course into the Academy 9, which is a great place for couples new to golf. Had I only known. Braemar is a short jaunt from the famous 50th and France shopping area in Edina — shopping anyone?
Meanwhile, Edinburgh, with a challenging 18-hole course that once hosted an LGPA tour stop, is home to the excellent Girvan Grille. The course is just a short freeway ride to downtown Minneapolis, where shopping, movies, craft breweries, live music and spectacular views of the Mississippi River are in abundance. Start your perfect golf date night at Edinburgh and you'll soon be returning to do so again.