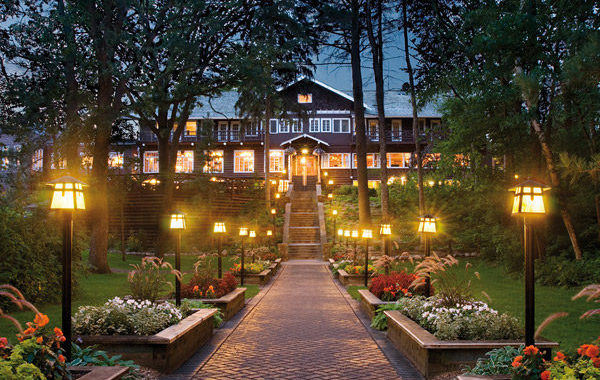 Grand View Lodge has received its fair share of awards, so it's no secret that when it comes to a one-stop golf weekend, Grand View Lodge in the central lakes area of Minnesota is the spot.
In addition to being listed on the National Registry of Historic Places, Grand View Lodge has also been named one of the best golf resorts in the U.S. by Golf Digest, Golf Magazine, and Golfweek. They offer luxurious accommodations, the Glacial Waters Spa, six restaurants, an indoor pool, 1,500-foot sandy beach, water activities, boat rentals, and social activities – in addition to world-class resort golf.
In business for more than 90 years, and with 54 holes of excellent golf under their umbrella, you can't go wrong spending a weekend at this grand resort.
Grand View Lodge Golf Course Guide
You can golf Grand View through golf packages, golf vacations, a day of golf, or a single round of golf on three distinct courses – The Pines, The Preserve, and The Garden.
The Pines
The Pines was built in 1990 and features three separate nines – The Lakes, The Woods and The Marsh – which offer some of the finest golf in the state. Designed by renowned Minnesota golf architect Joel Goldstrand, The Pines winds through a dense forest and features plenty of water hazards. There is a sense of deep woods seclusion to the courses, and the placement of water on some holes makes for some very challenging shots.
The 152-yard, par-3 No. 7 on the Lakes course requires a visually intimidating shot over a pond front and left. But a hill restrained with railroad ties to the right offers a bailout and a chance for a fortuitous kick back onto the green if the carry over the water left is too much. You will long remember this course for its beauty and playability.
The Preserve
Grand View Lodge also manages The Preserve, located in Pequot Lakes (eight miles north of the main lodge), and neither the beauty nor challenge lets up. With the same excellent conditioning as at The Pines, The Preserve is also a gorgeous walk through northern Minnesota woods. The course features dramatic elevation changes that make for some interesting club choices from 11 different elevated tees. No more so than on the 150-yard, par-3 17th hole, which is a nerve-rattling shot to the green in the narrowing canyon below.
The Garden
The Garden course is designed for the family on vacation. It offers nine holes (par 35) of leisurely play with 6" cups and kid's tee boxes to encourage a family-friendly game. The Garden provides a good challenge for the adults, but one that will have the youngsters in your group looking forward to another round.
Spa, Dining, and More
Glacial Waters Spa
This incredible spa is anchored in the belief that water can be key to making your experience refreshing and restorative and combines the ancient benefits of nature with the modern science of first-class product lines.
The moment you step into the Glacial Waters Spa you'll feel relaxed. The moment you step out of Glacial Waters Spa you'll feel renewed. With services ranging from massages and body treatments, to nail and skin care, there is something for everyone. Click here for more information on the (over 70) services offered.
Dining Options
Get ready, Grand View has a variety of dining options and atmospheres – ranging from casual to intimate. The best part? They are within easy walking or driving distance to your accommodations. Click on any of the links below to view more information like dining hours and restaurant menus.
Grand Breakfast – Daily breakfast in Heritage Room
Char – A classic steakhouse
CRU – Regional flavors and a wine cellar
Northwoods Pub – Food, drink, and music
On the Rocks – Outdoor patio dining
Crust Pizza – Pizza, pasta, and patio
Tanque Verde Cantina – Beachside dining
Freddy's Sports Grill – Fun, food and sports
Preserve Pub and Grille – Casual Pub Setting
Miscellaneous Activities
Whether you're looking to enjoy a wine tasting, splash your way down our indoor waterslide, relax in an outdoor hot tub, shop, enjoy the summer concert series, paddleboard, or enjoy cross-country skiing in the snow – you'll find just the right activity during your stay. Check out the activities calendar here.
You can also download their "doNorth" app and receive access to amenities as well as sign-up for activities, make tee times, book spa appointments and dining reservations all in one place!
Destination Wedding Venue
Offering you a beautiful and unforgettable atmosphere for your Minnesota destination wedding, Grand View Lodge is the perfect place to say "I do."
The professional wedding planners at Grand View will help you select the perfect options to make your dream wedding a reality. Their services include site selection and accommodations, scheduling, catering, and coordinating your reception. They can also assist in selecting vendors for your wedding cake, entertainment, floral design, as well as other details.
It's never too early to start planning your trip to Grand View for a trip that includes great golf, delicious dining and rest and relaxation! Whether you've got a day, weekend, a week, or more, check out their 2019 specials by clicking here and get planning your summer getaway.