Change Is Good: How to Bust a Midseason Slump
We've all been there. You were having a great golf season and then the dog days of summer come around and your game goes into early hibernation.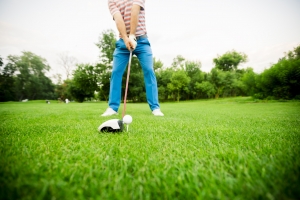 Suddenly, the shots you made last week are nowhere to be found, and the club feels foreign in your hands. You are experiencing a midseason slump, and there doesn't seem to be an easy way out.
Well, there are ways to bust that midseason slump. Perhaps the first step in finding a cure is understanding what is behind a slump. Jack Wawro, head professional at The Pines at Grand View Lodge, says it's hard to pinpoint the cause for everyone.
What Starts Slumps?
"I think it's a combination of many things, but my reason [for a slump] would be just a lack of concentration," Wawro says. "A lack of concentration leads to a lack of consistency. That's mine, anyway."
"For the general public, I think not playing as much and life getting in the way, and then trying to go out and expect the same results that you had before. That kind of starts that slide."
Wawro says that while your resulting golf performance appears to be a physical malady, the slump is primarily in your head.
"It is for sure mental," he says. "I would say 90 percent mental. The worst part is once you start that slump a little bit in your mind, it just gets worse — a snowball effect —and then all of a sudden you just have no chance.
"I see that a lot when we are giving lessons, when someone is trying to do 10 different things to bring their swing back, and they just know they are going to hit it bad. And with that going on in your mind, there is just no chance of recovery. You have to start over almost."
So what does Wawro recommend for getting out of a slump?
"I personally suggest switching it up," Wawro says. "If you keep doing the same routine over and over again, you get the same result. I think you've got to switch it up. I don't know what that might be, but maybe working on the short game, rather than going to the range all the time and taking full swings. Or trying a swing change — instead of a draw, try playing a cut, just doing something to switch it up. Maybe if you are a person who practices all the time, just start playing more. Get off that normal schedule that you've been on because that isn't working — kind of trick your mind into something new."
Here a few of Wawro's ideas for changing it up:
A New Game Format
"If you are playing in a big game all the time, just get out and play for fun — or vice versa. Maybe you need to put some pressure on yourself and play some type of game or event."
Change of Scenery
"Definitely a new golf course helps, or maybe new scenery on the range — or just a new range. Hitting the same shots to the same pins on the range — you can do it in your sleep. Maybe you need to get to a new range and try a different shot, a different wind direction, or whatever it might be."
Try a Different Ways of Practicing
"Before an event, I go to the range and hit a driver, an iron and a wedge [consecutively]. I don't just sit there and hit 20 drivers in a row. I actually try to simulate being on a golf hole rather than just hitting driver after driver after driver. You never hit driver twice in a row, you are always hitting something else in the fairway. Change it up and your mind won't get so used to one club."
Buy a New Piece of Golf Equipment?
"I don't think it is necessary, but sometimes it's nice if your wedge has been troubling you for a long time, maybe it's time to get a new wedge and get that new feel and new excitement. We've all been there — we get a new driver and we get excited about the game. But it's generally the golfer not the club — you don't always want to jump out and just grab something different. Sometimes yes, sometimes no. It depends on the condition of the current equipment."
Step Away From the Game (But Not For Long)
"I don't think [an absence should be] for a long period of time, but maybe a day or two off, something like that. It is not taking a month off. A person that plays a lot or plays a lot in tournaments can wear out and may want to try something to get away from the game a little bit — get a breather and refresh their mind and then get back to it. I don't think it's a long break though. It's not a sport you can be away from for a long time, that's for sure."

Explore Minnesota Golf Alliance is a non-profit membership organization whose mission is to raise awareness of Minnesota golf courses and resorts as international travel destinations. Our member facilities feature award-winning, championship golf courses and are geographically disbursed across the great state of Minnesota. The combination of exceptional quality and outstanding value make Minnesota one of the best golf destinations in the United States.