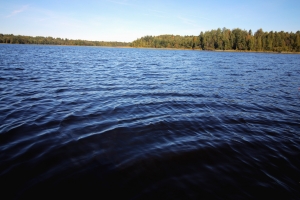 There aren't any oceans near the state of Minnesota, but we are known as the "Land of 10,000 Lakes," so a good view of the water is easy to find when playing golf here. There is something calming about hitting a high approach and watching it descend to the green earth with a view of beautiful blue water as a backdrop. So if you are in the mood for some lakeside golf, your search starts in Minnesota, the land of "sky blue waters."
From the stunning (there is plenty of private and public golf in Duluth with fantastic views of Lake Superior) to the sublime (holes constructed amidst or surrounded by one of the state's 10,000 water hazards), Minnesota has a lot of lakeside golf.
Here are a few of the most memorable places to play on your next trip here.
Giants Ridge in Biwabik — Hole No. 17 of The Legend course is likely the most famous water hole in the state. The beautiful setting on the shores of Lake Sabin is tranquil until you have to pull the trigger on a long iron across a corner of it. The setting is home to abundant wildlife and has hosted engagement dinners, photo shoots, and even weddings; and you will long remember your tee shot there — especially if it is a good one.
Stonebrooke Golf Club in Shakopee — Lake O'Dowd is hard by holes 8 and 9 at Stonebrooke. The back tees of the par 3 8th require a nervy shot over the water as waverunners race by on the left. And it's just a few steps to the tee of No. 9, where you need 180-190 yards to cross the lake and have a decent shot from the fairway to the green. Whether you make landfall or splash down, there is a short ferry ride over to the other side with some genial conversation with the ferry driver, who has cold beverages for sale on board.
Gull Lake in Brainerd — You can find three big names of Minnesota golf in the Brainerd area of the Central Lakes region. Grand View Lodge, Madden's on Gull Lake, and Cragun's Resort are all located on beautiful Gull Lake, and together these three resorts provide 144 holes of magnificent and gorgeous lakeside golf. Play at any one and find a challenge for all levels of golfer in your group and countless activities and amenities that make lakeside golf the excellent excursion it is.