8 Best Golf Blogs You Should Be Following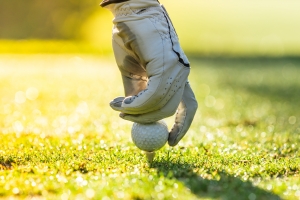 Remember when improving your game meant reading magazines and buying DVDs? Now, those articles and instructional videos are online, available all the time.
We've entered the age of the golf blog, with golf mags, networks, and independent writers all offering their own stories, instructionals, and opinions. So, if you don't already have a half-dozen of them already bookmarked, here's our list of 8 golf blogs you should be following.
8 Best Golf Blogs You Should Be Following
1. GolfWRX – One of the most popular golf blogs is brimming with tour news, equipment trends, pro tips, and extensive gear trials. GolfWRX is also very popular on Twitter, with more than 55,000 followers.
2. HittingTheGreen – This blog is great for golfers that don't care much about tour news, but are just looking to improve as players. There are tips for all talent levels.
3. CBS Sports – If you're looking for an authoritative source for news and expert predictions, not to mention schedules and leaderboards, there are few better than cbssports.com/golf. After all, CBS is broadcasting many of the tournaments they're writing about.
4.
Golf Blogger
– This British blog has great equipment reviews, plus player interviews and features, tournament info (on both sides of the pond), and instructional videos. There's even a travel section.
5. Howtobreak80.com – A blog that's filled with tips and videos. Thanks to smartphones, it's is a great reference to pull out on the driving range.
6. The Loop (Golf Digest) – If you're looking for an irreverent take on pro golf and pro golfers, the Loop is right for you. It's almost the People Magazine of the Golf Digest website.
7. Global Golf Post – Their blog is another great place to find golf gossip and People-style stories on the tour stars.
8. Armchair Golf Blog – One of the first golf blogs on the web, and still one of the best. Since starting it as an experiment in 2005, Neil Sagebiel has gone on to write two golf books and meet dozens of golf legends, including Nicklaus and Palmer.

Explore Minnesota Golf Alliance is a non-profit membership organization whose mission is to raise awareness of Minnesota golf courses and resorts as international travel destinations. Our member facilities feature award-winning, championship golf courses and are geographically disbursed across the great state of Minnesota. The combination of exceptional quality and outstanding value make Minnesota one of the best golf destinations in the United States.