5 Secrets to a Successful Family Golf Vacation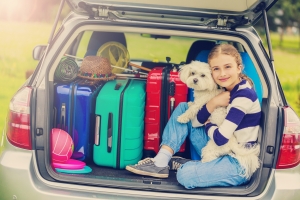 Have you ever been on a family golf vacation? "Of course," you say, "who hasn't?" Well, was it actually a family golf vacation or a vacation . . . with the family . . . in which you were hoping to play golf? There is a difference. A family golf vacation where the entire family plans to strap on golf spikes and head to the course for several days requires more planning than simply sneaking in a round on your summer family trip – and there are some secrets to making your family golf vacation successful.
Not every golfer in your family is created equally. Some are rabid golfers (you) and would tee it up at the drop of a ball marker. Others love to play, and especially with their dad and mom, but perhaps not every day of the vacation. And then there is your spouse who shares your love of golf, but knows every golf destination is known for something else and it must be explored. So there are few things to remember to make sure that your next family golf vacation is one to remember.
Here are the top five:
Golf Courses
The keys to any family golf vacation are the golf courses. You want one with great conditioning, challenge and playability for golfers of all skill levels. But even more important is a resort with a variety of courses—ones with a challenging course that even the beginners will enjoy. Resorts such as Madden's on Gull Lake have courses like The Classic, which will tempt the best golfer in the group. But Madden's also features the Social 9 Course, which the newest golfer in your family can play.
In the same way, Grand View Lodge is home to championship tracks The Pines and The Preserve, but it also features The Garden Course—a course with 6-inch holes for kids, where each member of the family can find the challenge they desire. Choosing a golf course with a variety of teeing options is advised, because some of the best memories from a family golf vacation come from everyone enjoying the courses.
Accommodations
You can't go wrong with the deluxe accommodations at the resorts you choose, and the courses in the Brainerd-Baxter area such as Madden's and Grand View offer lodging and restaurants that keep every golfer rested and ready for another round. Breezy Point Resort and Cragun's Resort are noted for their great
championship golf, but they also have four-star accommodations suited to families of all sizes.
Amenities
Family vacationers should also pay attention to the amenities available at the resorts or in the nearby town. Many of our Minnesota resorts offer biking, bocce ball, water sports, spas and indoor activities to interest all members of your family on down times. No family wants to play golf the entire vacation, so find a resort with plenty of amenities (all those resorts mentioned above have plenty) or pick a resort near a town with shopping areas, brew pubs, activities for children or other tourist attractions to take some time away from the course. Brainerd is filled with just those kinds of activities.
Water
Speaking of distractions from golf, the most successful family golf vacations, if experienced during the summer, are taken near water. Minnesota is the land of 10,000 lakes, and golf resorts are rarely located too far away from one of those natural beauties. Fishing, water sports, swimming, water slides or just simply relaxing next to the lake and taking in the cool breezes while you read or snooze, can be the perfect recipe for restoring your tired family before the next day's round. Give the kids something to do away from the course and they will be eager to get back to it.
Family Tradition
Finally, if you want to find success on a family golf vacation, make it a family tradition. Piece it together with enough activities so that everyone is looking forward to returning next summer. On the course, create some games, friendly competition or even a championship putt-off at a local miniature golf course for trophies and bragging rights, so that the minute you are in the car heading home, the backseat is filled with conversations of "wait until next year!"
For a complete listing of Explore Minnesota Golf Courses, click here. We hope to see your whole family on the course this summer!

Explore Minnesota Golf Alliance is a non-profit membership organization whose mission is to raise awareness of Minnesota golf courses and resorts as international travel destinations. Our member facilities feature award-winning, championship golf courses and are geographically disbursed across the great state of Minnesota. The combination of exceptional quality and outstanding value make Minnesota one of the best golf destinations in the United States.