10 Great Quotes About Golf
A lot of quotes have been attributed to Mark Twain over time, as he is known to have said a lot of great things.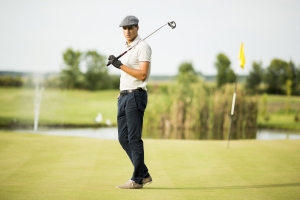 One of them is about our favorite game: "Golf is a good walk spoiled," he supposedly said. While that sounds like Twain, it's up for debate as to whether he actually said it. Still, there is no question that there are plenty of great quotes about the game of golf. Here are 10 memorable quotes worth repeating.
We may have all heard from time to time the old adage that golf doesn't build character, it reveals it. Legendary sportswriter, Grantland Rice agreed and said the following about it:"Golf gives you an insight into human nature, your own as well as your opponent's."
Along those same lines, English author P.G. Wodehouse believes we can derive something useful from playing the game — and offers this insight on choosing trustworthy associates."Golf… is the infallible test. The man who can go into a patch of rough alone, with the knowledge that only God is watching him, and play his ball where it lies, is the man who will serve you faithfully and well."
Bobby Jones was one of the greatest golfers to ever play the game, and even he recognized that the most important piece of equipment was a player's mind and their attention to the mental part of the game. "Golf is a game that is played on a five-inch course — the distance between your ears." Jones' fellow Texan Ben Crenshaw agreed:"I'm about five inches from being an outstanding golfer. That's the distance my left ear is from my right."
Golf is often compared to so many aspects of life, and often those descriptions are particularly apt — like this one from sportswriter Arthur Daley:"Golf is like a love affair. If you don't take it seriously, it's no fun; if you do take it seriously, it breaks your heart."
For many golfers, the game is part vocation, and we must be careful about that: "The proper score for a businessman golfer is 90. If he is better than that he is neglecting his business. If he's worse, he's neglecting his golf." ~St. Andrews Rotary Club Member
Peter Jacobsen is a professional golfer and golf commentator perhaps known as much for his golf humor as he is for his game. But he can also spin some decent golf philosophy:"One of the most fascinating things about golf is how it reflects the cycle of life. No matter what you shoot, the next day you have to go back to the first tee and begin all over again and make yourself into something."
Golfers are a particular lot, like those that want the conditions of the game to be perfect. Sam Snead knew a good and fair golf course when he saw one, and sometimes he said so if he didn't: "These greens are so fast I have to hold my putter over the ball and hit it with the shadow."
The game can certainly frustrate golfers. Former pro Tommy Bolt, famous for his volatile temper, knew that all too well. Of course, he never ran from his penchant for on-course tantrums. In fact, he was nothing if not accepting of it, and even offered advice for modern players when trying to express their frustration with the game:
"They throw their clubs backwards, and that's wrong. You should always throw a club ahead of you so that you don't have to walk any extra distance to get it."
 
It's hard to top Lee Trevino for witty repartee about the game of golf, and one of his most often repeated quotes refers to the true story in which he was playing a tournament during a severe lightning storm. The course was cleared, but Trevino chose instead to continue walking down the fairway with his one-iron held aloft like a perfect lightning rod. Asked why he would take such a risk, Trevino said he wasn't concerned because, "even God can't hit a one-iron."
Perhaps no one other than the king, Arnold Palmer himself, can sum up the game any better than this:"Golf is deceptively simple and endlessly complicated; it satisfies the soul and frustrates the intellect. It is at the same time rewarding and maddening — and it is without a doubt the greatest game mankind has ever invented."

Explore Minnesota Golf Alliance is a non-profit membership organization whose mission is to raise awareness of Minnesota golf courses and resorts as international travel destinations. Our member facilities feature award-winning, championship golf courses and are geographically disbursed across the great state of Minnesota. The combination of exceptional quality and outstanding value make Minnesota one of the best golf destinations in the United States.